A Higher Standard of Quality
Regulatory compliance standards embedded across every person, process, and product.
Focused Inspiration
Your vision requires excellence in standards and quality. We have you covered.
Get complete peace of mind knowing that every CPS solution meets rigorous industry standards. CPS Technologies has been ISO-9001 certified since 1999, and we've upgraded our QMS by adding components from AS9100 and IATF 16949.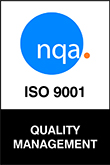 ISO-9001
Our commitment to customer focus, process optimization, and ongoing improvement underlies everything we do.
ITAR
CPS Technologies is registered with the U.S. Department of State Directorate of Defense Trade Controls and complies with all regulations relating to the Arms Export Control Act and the International Trade in Arms Regulations (ITAR).
"At CPS, our ISO 9001 Certification allows us to stand apart from other suppliers and ensures we continuously review, monitor and update our internal process in a way that focuses our resources to improve the customer experience. Be that in our quoting process, training programs, and quality initiatives, our customers are our priority.

Additionally, we are using the ISO framework to achieve the next level of commitment by progressing to the AS9100 Aerospace Certification. AS9100 will show our continual commitment to our customers. We are confident that our organization will meet these challenges and supply an ever greater experience to our customers.

CPS Technologies Quality Assurance Manager

Andrew Carey
Prepared for Any Industry
Guarantee compliance with all CPS Technologies complies with DFARS (Defense Federal Acquisition Regulation Supplement) requirements across product development, test reports, and documentation.
Dodd-Frank Conflict Minerals Directive
We maintain full compliance with all SEC disclosure requirements set forth by the Dodd-Frank Wall Street Reform and Consumer Protection Act of 2010.
CPS Technologies understands and is compliant with all REACH European Union initiatives governing the registration, evaluation, and authorization of chemicals.
Restriction of Hazardous Substances Directive(RoHs)
We are proud to guarantee compliance with the European regulation on the Restriction of Hazardous Substances Directive (RoHs), ensuring that all electronic and electrical products do not exceed acceptable levels for lead, mercury, zinc clear chromate, PBB or PBDE.
CPS Technologies has proven assessment methods governing all microelectronic devices intended for military and aerospace use, with reliable testing in these areas:
Solderability (2003)
Thermal Shock (1011)
Thermal Cycling (1010)
Isolation (1003)
Salt Atmosphere (1009)
Seal (1014)
Contact Our Composite Material Experts Now
Learn how CPS can change the way you see the world. Revitalize your product offerings with new and improved material solutions.